Repair and Maintenance for all Makes of Commercial Vehicle
Evans Halshaw Contracts offers you the operator, the most advanced Repair & Maintenance packages available in the UK. Whether stand-alone or in conjunction with any form of finance to suit your business, Evans Halshaw Contracts will deliver the highest levels of:
Customer Support / Communication
Driver Care
Proactive Fleet and Compliance Management
Vehicle Visibility
Vehicle Utilisation
Cost Management
By combining Evans Halshaw Group's renowned expertise in servicing, maintaining and repairing commercial vehicles by our professional technicians in our excellent workshops with iFleet Ltd's innovative approach to Fleet and Compliance Management means that Evans Halshaw Contracts delivers so much more than our competitors.
Contact Us
Key Features
Monthly Charges & Mileage Management
Through the use of integrated telematics, the majority of Evans Halshaw Contracts monthly charges are calculated from the mileage/kilometres covered rather than a flat rate based on a contract distance estimated by the Operator at the start of the contract.

This significantly benefits cash flow by matching the operational charges to the revenue likely to be earned through vehicle usage. If the vehicle didn't move in a month, the following month's charges reflect that fact. In addition, because the Operator pays for the miles covered:
There are no end of contract excess mileage charges.
There is no need to monitor vehicle mileage in line with the estimated contract distance.
There is no need for a pooled mileage arrangement and the administrative burden that sits with that process.
There is no money wasted paying for estimated contract mileage not used.
New monthly charges:
Vehicles >3.5t GVW pay a reduced 'fixed' amount per month PLUS a 'variable' amount calculated by multiplying the kilometres covered in the previous month by a pre-determined 'Pence per Kilometre' figure.
Vehicles <3.5t GVW pay a monthly amount calculated solely by multiplying the previous month's mileage by the pre-determined 'Pence per Mile' figure.
iFleet Customer Support
An iFleet Ltd Maintenance Controller will deal with the day to day operation of the contract monitoring and pro-actively managing every vehicle throughout the contract using our tailored, web enabled and integrated systems which include strong 'event management' and 'worksflow management' tools.

Your Evans Halshaw Contract Supervisor will be responsible for the success of the contract to ensure that it operates to your complete satisfaction.

Where the Operator requests a bespoke level of reporting and performance measurements, then iFleet with a dedicated member of the Account Management team and your Evans Halshaw Contract Supervisor work together with you, a suite of KPI's, specific reports and scheduled meetings will be agreed.
Vehicle Off Road (VOR)
The traditional understanding of VOR is that the vehicle in question is not available for work through an unscheduled mechanical failure whereas 'scheduled events' are deemed to be unavoidable downtime.
Evans Halshaw Contracts however, strive to manage the downtime for the complete process including these scheduled events. Through the use of iFleet's 'integrated telematic technology' and by working tirelessly with our service providers, iFleet proactively manages and records vehicle downtime for both scheduled and nonscheduled events.
Through the gathering of this information, we work at minimising downtime and reducing costs to increase the efficiency of your vehicle.
In Cab 4way Button
Each Evans Halshaw Contact vehicle comes fitted as standard with in-cab hands free communication to support functions via a simple dashboard mounted button giving the driver access to:
iFleet customer support (9am to 5pm – Monday to Friday); operational and administration assistance.
iFleet incident support (24/7); Direct telephone access to a 24/7 call centre which links the driver to the relevant support service (vehicle/tyre services/ancillary equipment)
'999' Emergency Services (24/7)
Operator choice; depot/home/head office
The button also allows inbound communication to the driver.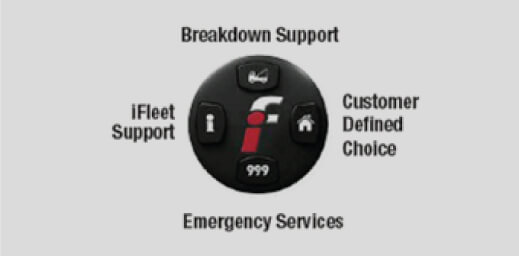 Tyre Service
Wear and tear only
As 1. plus tyre condition and depth checks
As 2. plus tyre husbandry (rotation/twinning/re-grooving)
Tyres are charged on a pence per mile/kilometre basis. Included in the standard tyre service (wear and tear only), the tread will be monitored during servicing and inspections and tyres will be replaced as required. The tyre service includes all fair wear & tear but excludes punctures and damage and any associated charges.
Recharge Management
Agree process and pre-approval limits with the customer
Agree any levels of discretion
Advise repair agents of processes to be adopted by customer
Verify repair with agent
Invoice customer monthly
Monthly report available by depot/vehicle/recharge type
The recharging to the customer of costs incurred for any items that are outside the terms of the particular contract are handled efficiently and in a controlled and informative manner to ensure the customer receives the same high standards of service, enjoys the same levels of cost control and the same levels of information and reporting as for any other aspect of its fleet operation.

More than that though, iFleet allows the early identification of trends by monitoring the levels and types of recharges being incurred. This allows action to be taken as quickly as possible to counter the trend and reduce this often avoidable cost to the business.
Pre-Approval Limit
This enable minor damage to be repaired immediately (e.g. tail light repairs) without the need to request authority and the possibility of delaying the vehicle from continuing its journey. It is strongly recommended that this option is taken.