V6 Power For New Ford Ranger Raptor
02nd Feb 2022
By Chris Russon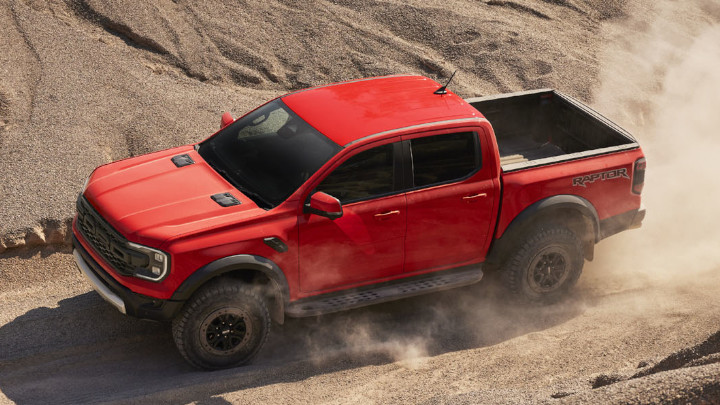 The next-generation Ford Ranger Raptor has been revealed, and it will be powered by a V6 petrol engine.
Due for release in late summer, the new Raptor has a twin-turbo 3.0-litre EcoBoost engine under the bonnet, which develops 284bhp.
The new model comes with seven drive modes, and Ford says it's even more capable off-road.
With re-engineered suspension featuring Fox shock absorbers, Ford has developed a new four-wheel drive system for the Raptor, which includes an electronically‑controlled, on‑demand, 2-speed transfer case and locking front and rear differentials.
Whilst pricing and precise performance information is still to be released, the new model can be expected to cost more than the £54,000 of the current version.
"We've really focused on delivering a genuine performance truck with the Next-Gen Ranger Raptor" said Dave Burn, Ford Performance chief programme engineer for the Ranger Raptor. "It's significantly faster, looks incredible, is packed with new features, and it's the toughest Ranger we've ever made."
The Raptor is the first of the next-generation of Rangers and deliveries are expected to start in the third quarter of 2022 ahead of the arrival of an all-new Ranger line up.
The twin-turbo 3.0-litre EcoBoost V6 engine has a graphite-iron cylinder block, which is around 75 percent stronger and up to 75 percent stiffer than the iron used in traditional castings.
Ford Performance engineers have worked to ensure the engine delivers immediate response to throttle inputs, and a race-bred anti-lag system similar to that first seen on the Ford GT road car and Focus ST is fitted to enable rapid delivery of boost on demand.
A new anti-lag system, available in Baja mode, keeps the turbochargers spinning for up to three seconds after the driver backs off the throttle, allowing for faster resumption of acceleration out of corners or through the gears when the driver steps back on the accelerator.
In addition, the engine is programmed with an individual turbocharging boost profile for each of the advanced 10-speed automatic transmission's gears, for optimised performance.
Drivers can choose their preferred engine sound by pressing a button on the steering wheel, or by selecting a drive mode that uses one of four settings.
"The suspension upgrades in the Ranger Raptor make the most of the new Fox Live Valve dampers. The suspension adapts in real-time to enable exceptional on-road body control while absorbing corrugations and bigger ruts off-road with ease, ensuring maximum control and performance" Burn said.
The next-generation shock absorbers feature cutting-edge control technology offering position-sensitive damping capability. These shock absorbers are the most sophisticated ever fitted to Ranger Raptor and are filled with Teflon‑infused oil that reduces friction by around 50 percent compared to those on the outgoing vehicle.
Linked to the Ranger Raptor's revised selectable drive modes, Ford says the Live Valve internal bypass system has been developed to provide better on-road comfort and off-road ride quality both at high and low speed.
For the first time, the Ranger Raptor gets an advanced full-time four-wheel drive system with an all‑new electronically‑controlled on-demand 2-speed transfer case, combined with front and rear locking differentials – a valuable feature for hardcore off-road enthusiasts.
The new Raptor has seven selectable drive modes, including the off-road oriented Baja mode, which configures the vehicle's electronic systems for use during high-speed off‑roading, as well as a Trail Control which is said to be similar to a cruise control set up for use in harsh conditions.