Ford Reveals New e-Tourneo Custom With a Range of 230 Miles
24th Nov 2022
By Chris Russon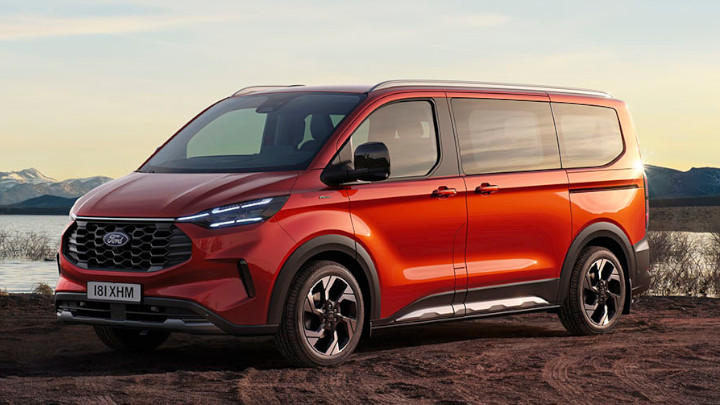 Ford has unveiled its next generation of Tourneo Custom multi-activity vehicles, which includes an all-electric variant with a range of up to 230 miles.
The line-up will be available next year and sees space for up to nine passengers, aimed at both the leisure and professional sectors.
A plug-in hybrid option is also part of the new Tourneo Custom range, as are diesel automatics with all-wheel drive.
The E-Tourneo Custom – which sees seating capacity reduced to eight – uses the same battery cell technology as the Ford F-150 pick-up and can be recharged to 80 percent in around 40 minutes.
A full charge takes around eight hours, while from a fast charger some 23 miles of range can be added in five minutes.
The E-Tourneo Custom has a two tonne maximum towing capacity and with a variable seating arrangement can be set up for anything from carrying sports equipment to carrying business passengers.
Ford's Pro Power Onboard technology also allows users to power digital devices, tools, or sports and camping equipment from sockets in the front cabin.
The 9-seat PHEV and diesel models as well as the electric version have a new track-mounted seating system in the second and third rows, for maximum adaptability when arranging the cabin to provide optimum space for people and their belongings.
The tracked seating system enables the seats to be slid forward or back along notched tracks set into the rear cabin floor, or to lifted out completely as required. The three second-row seats can each be moved independently, while the third row seats have a two seat/one seat split.
Powered sliding side doors are a standard feature.
The PHEV Tourneo Custom has a 2.5-litre petrol engine and electric motor, which is capable of 31 miles of zero emission driving.
Alongside the electrified powertrains, Ford will also offer the Tourneo Custom with its latest-generation EcoBlue diesel engines – combined with a choice of a new high-efficiency 8-speed automatic transmission or a 6-speed manual gearbox.
The new Tourneo Custom also introduces an all-wheel drive option aimed at those who need all-weather capability and for owners accessing campsites, beaches, and trails.
The diesel versions have a 2.5-tonne towing limit and a new retractable tow bar option which allows the tow hook to be stored from view.
Prices for the new Tourneo Custom – which is to be built in Turkey – are still to be announced.