Ford Announce Toughened Off-Road Rangers
29th Mar 2023
By Chris Russon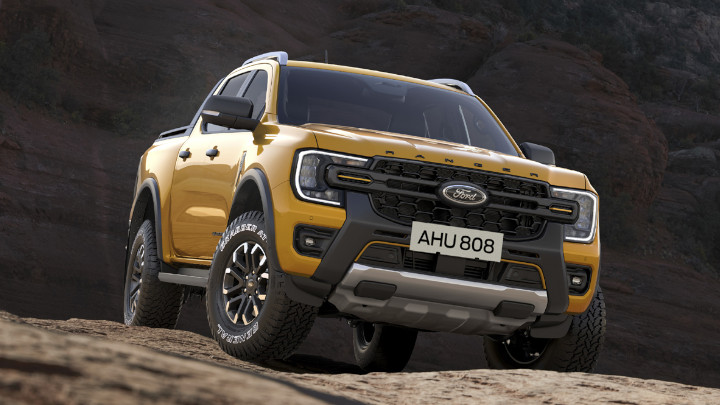 Off-road focused versions of the Ford Ranger are being released by Ford, giving the pick-up truck more ability.
The Ranger Wildtrak X and Tremor come with long-travel suspension, Bilstein dampers, added rugged body features and a new load system that allows longer items to be carried more easily.
Ford says its Flexible Rack System makes it easier to carry items such as ladders, planks, and kayaks, and the set-up will also be available as an option for the regular Ranger Wildtrak.
The Ranger Tremor is based on the XLT derivative of the Ranger, and the two new versions are due for delivery in August 2023.
Prices are still to be announced but are expected to show a slight premium over the £31,350 the XLT costs from and the £39,350 of the Wildtrak.
"The new Ranger Wildtrak X and Tremor series follow the same recipe as our iconic Ranger Raptor; each one adds even more off-road ability and stunning looks to Europe's most popular pickup. Together, they broaden the latest Ranger family to new levels, strengthening its appeal to more customers than ever," said Hans Schep, general manager of Ford Pro, Europe.
Ride height is increased by 26mm and 30mm has been added to the track width for sure-footedness on rugged terrain.
As well as the Bilstein dampers, the pair are fitted with a heavy-duty power steering system and a protective steel bash plate deliver for added off-road protection.
Standard off-road technologies include Trail Turn Assist, which uses brake-based torque vectoring to reduce turning radius by up to 25 percent when tight turns are needed. Trail Control also operates similarly to cruise control, allowing the driver to select a speed below 20mph, and the vehicle will automatically manage acceleration and braking to maintain the selected speed.
Both the Wildtrak X and Tremor are powered by Ford's 2.0-litre EcoBlue bi-turbo diesel engine which develops 369lb ft of torque and 202bhp and mated to a 10-speed automatic gearbox.
Prices correct as of 29/03/23 and are subject to change.