Evans Halshaw Truck Parts
Here at Evans Halshaw, we have a fantastic truck parts offering which aims to get you the parts you need quickly, reducing downtime. Our offering consists of many different brands of parts along with fast delivery times and many other benefits. If you are in need of truck parts, look no further.
Extensive Stocks
We have an extensive range of parts in stock at any one time. Our first-time pick rate is as high as 94%. If we don't have a part in stock, one of our parts staff will source it for you as quickly as possible. We will always go the extra mile in trying to get your required part, even if that means getting it shipped across from Australia!
Contact Us
DAF Genuine Parts
DAF genuine parts function perfectly with your DAF truck as they are specially designed for your vehicle. Using DAF genuine parts therefore allows you to get the maximum out of your vehicles, benefiting your business greatly.

DAF genuine parts have many advantages: Maximising lifespan and performance, improving reliability and adding minimal operational costs.
Full DAF Warranty
Another major benefit of DAF genuine parts is the excellent warranty that DAF offer. As long as the parts are installed by a DAF dealer, you not only have a warranty on the DAF Genuine Parts but also on the cost of installation. It's a win-win!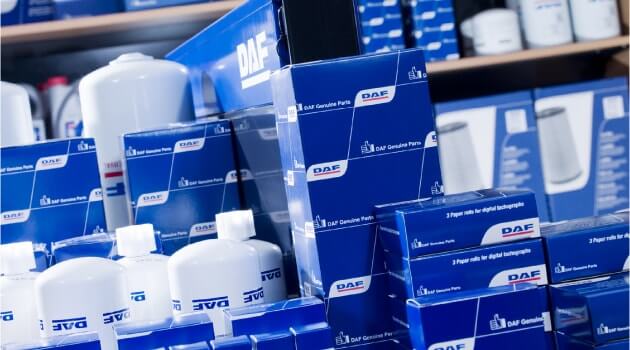 TRP Parts
Evans Halshaw are delighted to be able to offer you the most incredible range of parts and accessories to suit not only DAF trucks, but all popular makes! Quality parts are a priority, no matter what make of trucks or trailers you operate. Whether it be Scania, Mercedes, Iveco, Renault, MAN, quality parts are key. High quality parts lower the rick of breakdowns and truck downtime.

That's what DAF's TRP parts are for. TRP is the largest range of All Makes truck parts and trailer parts in the UK. TRP provide a huge range of braking, filtration, steering, suspension and trailer parts to suit almost all fleets. They are available 24 hours a day, seven days a week through the parts online system.

TRP parts offer a complete parts solution through the comprehensive range of truck and trailer parts and workshop consumables we offer. Many of these parts are available off the shelf, meaning we can offer very quick delivery times. Sometimes these are as short as one hour. Our range of TRP parts are of a quality which meets the demands required for maximum vehicle up-time, therefore offering value for money.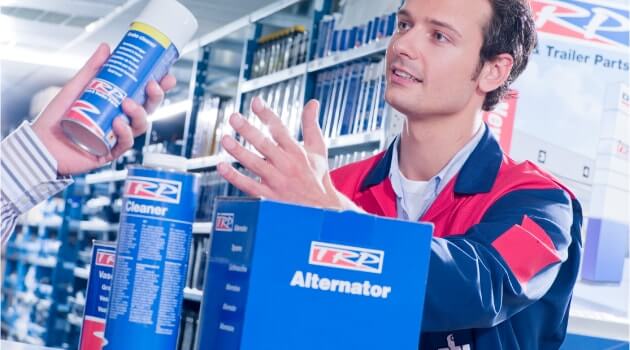 1-Hour Parts Delivery
In 2018, we launched a 1 hour delivery service. This unique service provides customers with DAF Truck parts, TRP all-makes truck and trailer parts within 60 minutes of ordering them and is available Monday to Friday 9am to 3:30pm.

We understand that our customers will sometimes need a part as soon as possible so we have enhanced our delivery service; going from our twice a day delivery system to a 1 hour delivery service. We have installed a telematics system in our vans and at base. These coincide with each other to plan the most efficient route for deliveries. It also takes traffic into consideration which allows customers to receive an accurate arrival time for their much needed parts!

The 1 hour delivery service is cost free to all account holders in the following covered areas;
Birtley
DH2, DH3, DH4, DH5, DH6, DH9, NE1, NE10, NE11, NE13, NE15, NE16, NE21, NE37, NE38, NE4, NE8.

Leeds
The one-hour delivery service is available within the following post codes for DAF Leeds LS2, LS3, LS4, LS6, LS7, LS11, LS12, LS16, LS18, LS19, LS20, LS28, BD1, BD2, BD4, BD5, BD6, BD7, BD10, BD12, BD13, BD14, BD17, BD18 (and excluding additional postcodes).

Sheffield
Excluded post codes (S32, S33, S40, S41, S42, S43, S45, S64, S71, S72, S80 and S81) include Chesterfield, Worksop, North Barnsley and Hope Valley. Although these areas do not currently qualify for the 1-hour delivery service, Evans Halshaw DAF Sheffield are still able to deliver parts to these locations.

Stockton
The one-hour parts delivery service applies to all TS and SR8 postcodes.

Evans Halshaw DAF staff know their stuff
At Evans Halshaw DAF we pride ourselves on having skilled, fully trained parts staff who work hard to identify the right part for you first time. This helps to keep our delivery times short and our first-time pick rate high. Our staff are always willing to help.
Evans Halshaw DAF offers the Max Card
One Card, numerous benefits!

The MAX Card is free and aims to make you a priority. Being a MAX cardholder means that there are exclusive offers available to you on DAF & TRP parts. Activate your card now to start enjoying the benefits immediately. Find out more about the MAX card here.