More vans and more miles
In 2014 to 2015 there were over 3.5 million light goods vehicles registered in Great Britain, travelling as estimated 45.5 billion vehicle miles. Recent forecasts from the Department for Transport show that this figure will continue to rise substantially in the coming years.

Operating a poorly maintained van could result in an accident, not only endangering the driver, but the lives of other road users. Making sure these vehicles are regularly serviced and maintained will help goods and services reach their destination - promoting a reputation for reliability and increasing road safety.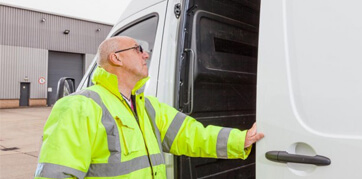 How we're helping and encouraging
A range of useful videos has been created offering guidance to encourage van users to stay safe and legal. These have all been published to a simple and clear guide on GOV.UK.

It includes things like routine walkaround check to highlight mechanical areas of concern. The walk around checklist contains an instructional diagram of the daily routine checks a van driver should carry out before using their vehicle.
Tyres
Lights and reflectors
Suspension
Steering
Transmission
Some of the more essential information for van drivers includes things like weight limits and loading, speed limits for vans, and driving hours