Introduction
This guide explains how keeping your van legal can save you thousands in lost income, fines and fixed penalties.

VOSA stop more than 10,000 vans each year for roadside checks costing your businesses up to £4,000 per day. The figure is made up of on-the-spot penalties and lost revenue.

More than 9 in 10 vehicles VOSA stop are dangerously overloaded while more than 6 in 10 have serious mechanical defects which mean you might not be allowed to carry on working that day.

If your van has either of these problems then it will empty your wallet, could leave you facing a court appearance and even heavier fines.

Don't let the state of your van drag your business and your bottom line down. Use this guide to find out more about keeping you and your vehicle on the right side of VOSA and the law.

This guide offers general help and isn't a legal document. If you're not sure about any of the advice it contains then you.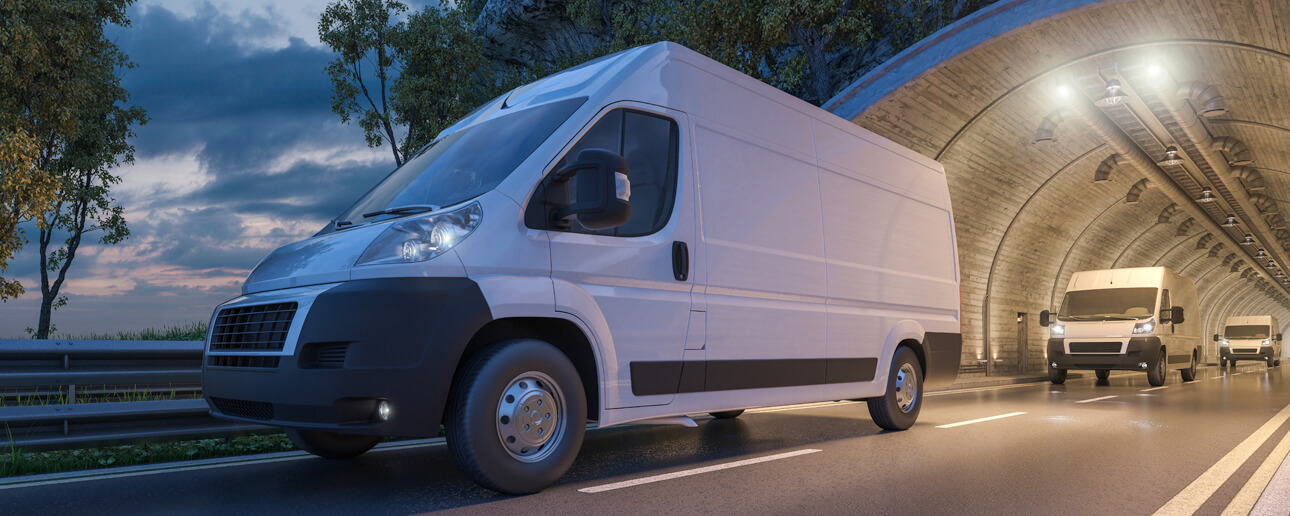 Your Van Checklist
Driving a van without following the rules and regulations can really hit you in the pocket. The first thing you can do to help keep your van and business up and running is to carry out the following simple checks:
Your licence
You could face fines up to £5,000 and up to 6 months in prison if you drive without the proper licence so…
Make sure it's valid, in date and includes your photo card
Make sure you're entitled to drive a van – including Category B vans up to 3.5 tonnes, Category B and E for most 3.5 tonnes van and trailer combinations and C1 for vans up to 7.5 tonnes
Your load
You face immediate fines up to £100 and having your vehicle taken off the road if it's overloaded or not loaded properly so…
Make sure your load does not exceed your vehicle's maximum weights (including its axles) - the maximum weights will be stamped onto the identification plate
Make sure you safely secure your load using the right strapping as its weight will not be enough to keep it on or in your vehicle
Driving laws and regulations
You face fines up to £5,000, up to 2 years in prison and having your vehicle taken off the road if you don't take notice of the regulations for vans so…
Make sure your van is always insured, taxed and MOT'd
Follow the drivers' hours rules for vans over 3.5 tonnes
Follow the GB Domestic Hours regulations for vans under 3.5 tonnes
Follow EC drivers' hours and tachograph regulations for larger van or smaller vans with trailers
Follow working time regulations – particularly mobile workers' regulations for vehicles over 3.5 tonnes
Driving and maintaining your van
You face unlimited fines, losing your licence and up to 14 years in prison if you don't drive your van properly so…
Familiarise yourself with your van's safety features, for example, anti-lock brakes and stability controls
Familiarise and every time you drive your van carry out the checks outlined in the 'Van Walkaround Checklist' on the back of this guide
Drive within the speed limits for the road you're on and the van you're driving
Don't drink or take drugs while driving as it
Roadside Checks and Fines
VOSA is stopping more vans and carrying out more roadside checks on vans than ever before to make sure you're driving your vehicle safely and within the law.
If you and your van are found to be breaking the law then VOSA roadside examiners have the power to:


Issue on-the-spot fines for both non-endorsable and endorsable offenses
Stop you using your van if it's overloaded, has serious mechanical defects or you're found to have broken the drivers' hours rules
Immobilise your van if we've stopped you from continuing your journey or where you've decided not to pay an on-the-spot fine
VOSA fines range from £100 up to £5,000 and if your van is over 3.5 tonnes you could face up to 2 years imprisonment for drivers' hours and tachograph offenses. You can easily avoid all this by simply following the rules and keeping your van in good condition which will help keep you and your van on the road.
Van Weights
You should always make sure the weight of your van doesn't break its official gross and axle limits otherwise it will cost you.
Most vans are classed as light goods vehicles (LGVs) which are commercial vehicles with a gross weight (meaning the combined weight of you, your passengers, load and fuel) of less than 3.5 tonnes.
All vans weighing less than 3 tonnes are classed as Class 4 for MOT purposes and vans between 3 and 3.5 tonnes as Class 7.
If your van breaks the 3.5 tonnes limit then you'll have to apply for a goods vehicle operator's licence which means you can only drive so many hours in a day under drivers' hours and tachograph rules.
You'll also be hit by all kinds of extra UK and European regulations and if you break these rules you'll be looking at fines of up to £5,000 and up to 2 years in prison.
So don't forget to keep an eye on what you're carrying in your van as if you break the 3.5 tonne limit then it could cost you a fortune and really put you out of business.
Further Information
Useful Websites:
For commercial customers and private motorists visit:
www.gov.uk
For corporate information visit:
www.gov.uk/vosa