What is Eco Driving?
Driving efficiency can play a big part in your vehicle's life span, and save you money in the process. Here's our step-by-step guide to driving efficiently. Take a look at our top tips!
The benefits of eco-driving:
Improve road safety
Reduce emissions and noise output
Lower vehicle maintenance
Reduce vehicle wear and tear
More responsible for driving and less stress!
Call us today on 0333 323 7158 to arrange a complimentary tyre safety check at your nearest Evans Halshaw Service Centre.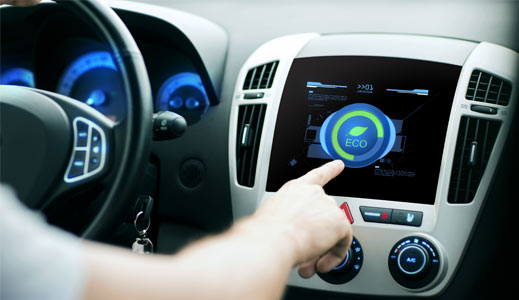 Eco-driving tips
Tyre Pressure:
Regularly checking your tyre pressure will ensure your tyres are as efficient as possible in terms of fuel consumption. Under-inflated tyres will use more fuel due to the increased rolling resistance. Before embarking on a long journey it is advised you check the tyre pressure, in doing this you will increase the efficiency of your journeys. Check your vehicle's handbook for guidance on tyre pressure. For heavier loads an increased pressure is often recommended.
Vehicle Servicing:
Servicing your vehicle regularly can be a huge benefit to the efficiency of your engine. Check your manufacturer's service schedule to stay efficient and ahead of the game. Check your service price and make a booking online today.
Engine Oil:
Check your vehicle's handbook to make sure that you are using the right type of engine oil for your vehicle.
Check your boot:
Taking items which are not needed for the journey creates extra weight. This extra weight translates to increased fuel consumption. Be savvy...check if there is anything you don't require to take on your journey and take it out. The same applies to roof-racks/boxes, by removing these, your vehicle will be more streamlined and therefore face less wind resistance, resulting in increased fuel efficiency.
Plan Ahead:
Consider the route you are taking and the traffic levels at the time of your journey, possibly check traffic news before you set off. If the route you are taking is an unfamiliar one, be sure to plan ahead to reduce the risk of getting lost and wasting fuel.
Smoothly Does It:
Gentle acceleration and smoother driving will not only increase your driving efficiency; but also give you a more pleasurable driving experience. The same applies to slowing down: read the road ahead to avoid any unnecessary braking.
Stay Speed Savvy:
Instead of putting the engine through its paces, try changing up at around 2,000rpm (diesel) or 2500rpm (petrol). This is one of the major factors in decreasing drive efficiency, yet one of the more simpler techniques to implement. Some vehicles will have a Gear Efficiency Indicator (GEI), highlighting the most efficient point for the gear change.
Calls to 0333 numbers cost the same as calling a landline; even when you are using a mobile. Calls are also included in FREE minutes with landline and mobile contracts.