Introducing the All-New Ford Ranger Raptor
The Ford Ranger Raptor is a pick-up designed for excellent off-road performance. A uniquely-engineered model with no direct competitor, it's part of the Ford Performance range, alongside the Focus ST and Mustang models.
The next-generation Raptor has been given a variety of new features to enhance appeal even further. With a strong build quality perfectly suited to off-road driving, intelligent technology and a striking design, the Ranger Raptor is the ideal vehicle for an adventurous lifestyle.
There are a variety of driving modes, gadgets and engine sounds, meaning performance and off-road enthusiasts are spoilt for choice.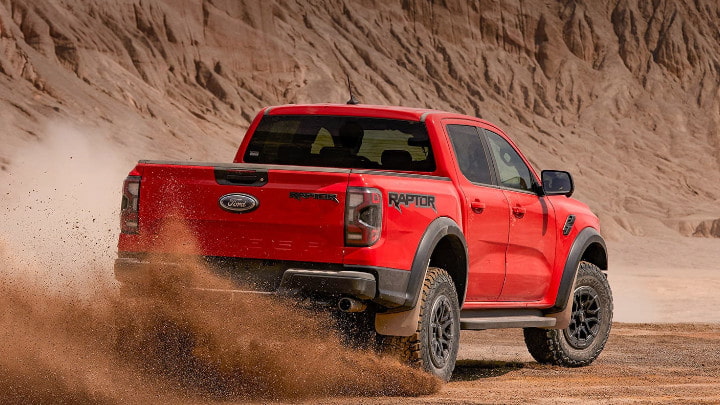 Influenced heavily by desert racers and those who love to go off the beaten track, the Ranger Raptor offers an advanced full-time four-wheel drive system for the first time. The system works in tandem with front and rear locking differentials to give the pinnacle in off-road performance.
There are a variety of driving modes to choose from dependent upon which surface you're tackling. On-road, you'll be able to choose between three self-explanatory driving modes (Normal, Sport, Slippery), whilst four off-road options include 'Rock crawl', 'Sand', 'Mud and Ruts' and a maximum attack 'Baja' mode.
Other features include FOX® Bottom-Out Control, which provides peak damping force and control, as well as Trail Control™; a system that's essentially cruise control for off-roading, allowing the driver to focus on navigating the tricky terrain.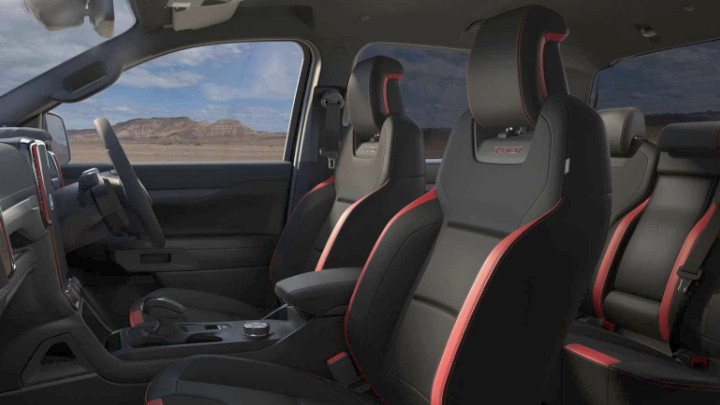 Featuring a host of equipment, the Ranger Raptor gets a complete overhaul inside the cabin. New, comfortable, fighter jet-inspired leather sports seats are embellished with the iconic Raptor logo.
Occupants will also be able to enjoy the latest in digital tech in the form of a 12.4-inch digital cluster and a 12.0-inch touchscreen SYNC 4A® infotainment system. With features such as Apple CarPlay/Android Auto and a 10-speaker B&O® sound system also available, time spent in the Ranger Raptor is as entertaining as it gets.
There are twin rated tow hooks at the front and rear, providing easy access in tough conditions. With a gross payload of over 600kg, plus all the clever features above, the Ranger Raptor is a vehicle with both brains and brawn.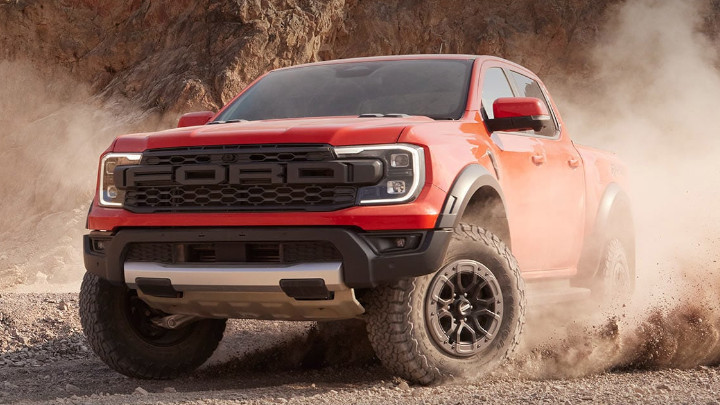 As a uniquely-engineered model with no direct competitor, the Ranger Raptor is a vehicle designed unlike any other. Various features have been added to make the Ranger Raptor even better such as flared wheel arches, sharp C-clamp LED matrix headlights and an integrated step pad and towbar that don't impact departure angle.
Powering the Ranger Raptor is the latest 3.0-litre EcoBoost V6 petrol engine that's been cleverly tuned by Ford Performance to produce an eye-watering 284bhp and 362lb ft of torque. Performance is also enhanced by a cutting-edge anti-lag system that was first seen on the Ford GT, and a 10-speed automatic gearbox.
If you somehow aren't thrilled enough the Ranger Raptor also comes with multiple exhaust profiles (Quiet, Normal, Sport, Baja) allowing the driver to find a soundtrack that suits their preference.
A tamer 2.0-litre EcoBlue bi-turbo diesel powertrain will also be available from 2023.
Test Drive the All-New Ford Ranger Raptor at Evans Halshaw
Offering a vast off-road skill set and a burly design, the Ford Ranger Raptor is the ultimate performance pick-up truck. Its extreme specification, imposing design and ready-for-anything philosophy are traits unmatched by other pick-ups in the UK.
To find out more information or to book a test drive, please contact your nearest Evans Halshaw Ford Transit Centre.