Introducing the DS 7 CROSSBACK E-TENSE
Adding a plug-in hybrid drivetrain to the already excellent DS 7 CROSSBACK SUV was a no brainer for the French marque. It drastically reduces the tailpipe emissions, allowing drivers to travel short distances using electric power only.
Because it's a hybrid, however, you still get all of the convenience and versatility of a petrol-powered model - there's no range anxiety whatsoever with the DS 7 CROSSBACK E-TENSE.
It's a powerful and luxurious vehicle, with no significant practicality drawbacks when compared to the regular DS 7 CROSSBACK thanks to cleverly positioned batteries. As a final bonus, it's available not only as a front-wheel drive model, there's a four-wheel drive (4WD) version, too.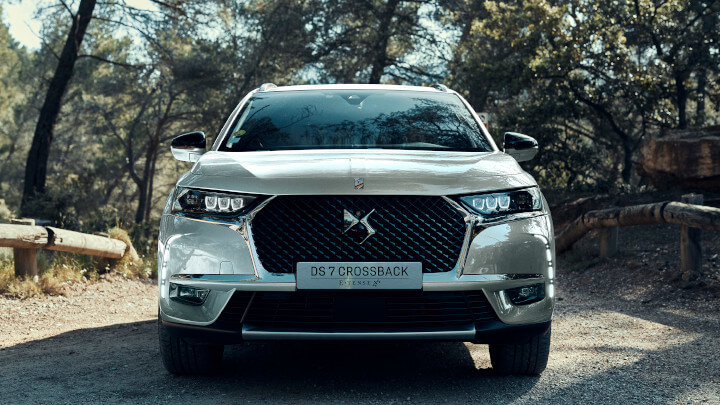 There are two versions of the DS 7 CROSSBACK E-TENSE. The first is a 222bhp front-wheel drive model that can travel up to 34 miles on electric power alone, before switching to petrol-hybrid mode to keep you moving.
The second model in the line-up boasts an extremely powerful 296bhp drivetrain as well as four-wheel drive. This is thanks to a turbo petrol engine and two electric motors (one front and one rear) that give the car the ability to accelerate from 0 to 62mph in just 5.9 seconds. It can travel up to 36 miles on electric power alone.
Both models give the driver a choice of different drive modes, including Zero Emission, Sport and Hybrid, all of which can be activated at the touch of a button.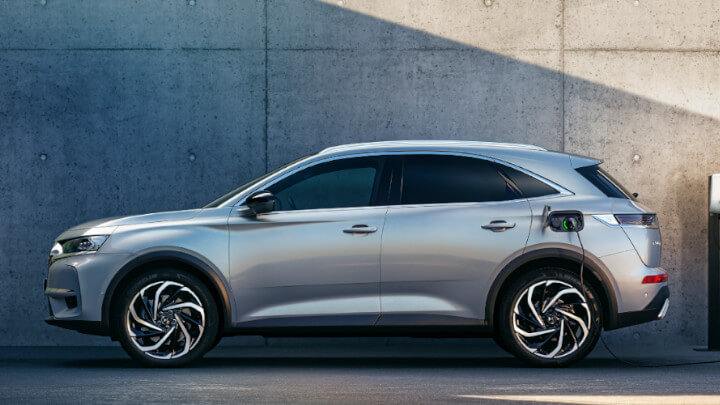 DS recommend you charge the DS 7 CROSSBACK E-TENSE at a wallbox or public charging point. At a wallbox, which can be installed at your home for a small additional cost, the vehicle can be recharged from empty to 100 percent in two hours for the 4WD model, or 1 hour 45 minutes for the 222bhp version.
You can also use a regular domestic three-pin plug to charge the car. This will take around eight hours, so it's fine if you want to charge it up overnight or while you're at work - check with the boss first, though.
Energy is also recovered through regenerative braking - a system modelled on the one DS use on their Formula E race car. This helps to maximise the available EV range.
Test drive the DS 7 CROSSBACK E-TENSE
With so much luxury, practicality and comfort on offer, the DS7 CROSSBACK is already a sensational premium SUV. With the addition of a plug-in hybrid drivetrain, it's now environmentally friendly too.
To experience the DS7 CROSSBACK E-TENSE for yourself, please book a test drive at your nearest