Introducing the new DAF XG and XG+
The new generation DAF XG and XG+ trucks are designed to take full advantage of the new EU regulations on vehicle masses and dimensions. The XG is larger than the XF, with the XG+ the new flagship of the DAF range.
The cab has been elongated, allowing more room for the driver. This is complemented by an electrically-adjustable DAF Relax bed, ensuring for a great night's sleep when required.
Other notable traits of the XG and XG+ are the excellent aerodynamics which contribute to efficient performance and reduced running costs. The engines and gearboxes have been given upgrades, too.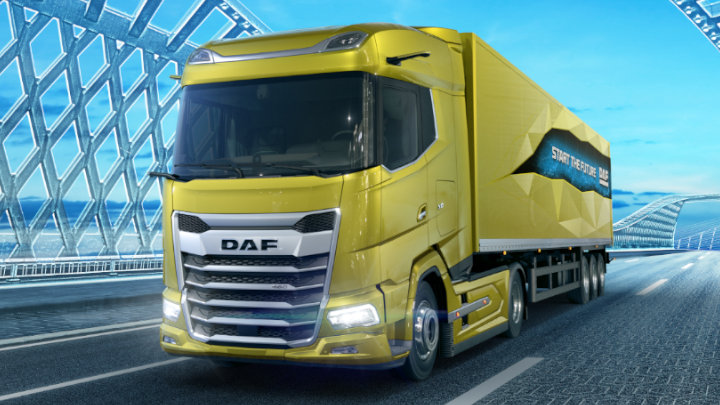 There are 4x2 and 6x2 rigid and tractor units of both the XG and XG+. Excellent bodybuilder-friendliness is a given, with pre-prepared wiring that makes it easy to install common body types and components.
A world-first for HGVs, the DAF XG and XG+ have a windscreen that is curved as it meets the body, one of a number of design features that contribute to a 10 percent improvement in fuel economy. Other updates include the aerodynamic flow guides on the front grille and LED headlights.
The weight of the XG and XG+ has also been reduced compared with other trucks, again resulting in better fuel consumption and manoeuvrability.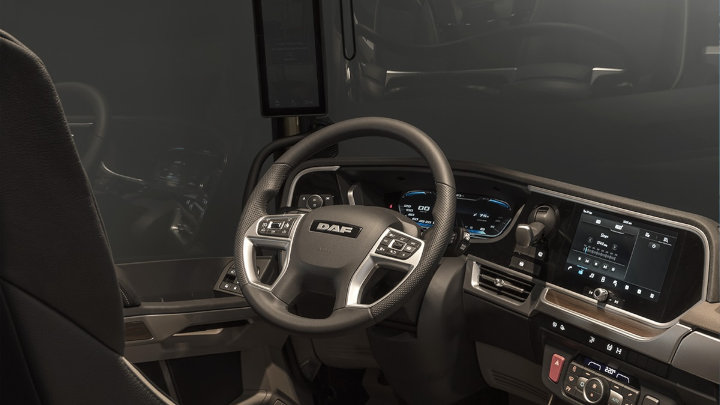 One of the standout features on the XG range of trucks is the optional DAF digital vision system, providing the driver with excellent visibility in all weather conditions and removing the need for large side mirrors, reducing aerodynamic drag.
The fully digitised instrument cluster and infotainment system are customisable to your preferences.
Available safety features are plentiful on the XG range, and include:
Predictive cruise control/adaptive cruise control
Forward collision warning with advanced emergency braking system
Lane departure warning
Tyre pressure monitoring system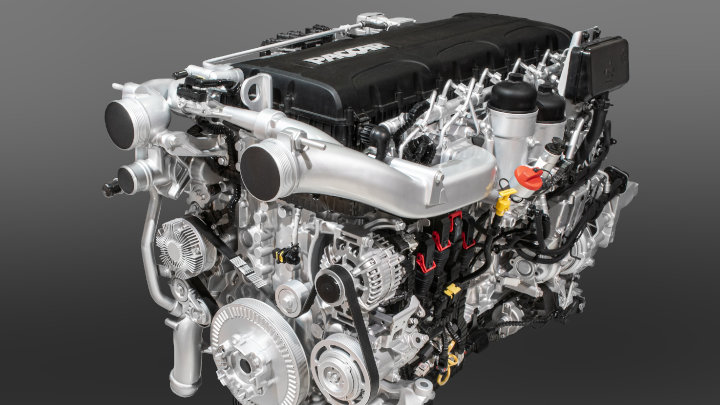 A range of PACCAR MX-11 and MX-13 engines are available in the XG and XG+, ranging from 422bhp to 523bhp. They have been revised for the new generation of DAF trucks, resulting in unrivalled levels of efficiency and performance.
Other driveline innovations include 3.5kg lighter brake calipers, new and improved air intake and cooling systems, and optimised rear axles for better driveability.
A lighter, more compact engine aftertreatment system means there's more chassis space, allowing room for a fuel tank up to 710 litres in capacity (depending on the version).
Order your new DAF XG or XG+ at Evans Halshaw
Designed to take the DAF range of trucks to a new and exciting level, the XG and XG+ feature many innovations to make the lives of operators and drivers easier and more efficient. They are also more spacious and comfortable than any truck that's gone before, too.
To find out more about these innovative new models from DAF, please contact your nearest Evans Halshaw DAF dealer.