DAF XF is the default choice as a long-distance transport solution, combining optimised steering and handling with tremendously low fuel consumption. It sits at the top of the DAF range as the largest truck that they manufacture.
Drivers will love the comfortable, spacious and tech-filled cabin, and the latest PACCAR engines and TraXon automated gearboxes provide an enjoyable driving experience no matter the road conditions.
Payloads are high and running costs are low thanks to lightweight yet strong chassis construction, excellent aerodynamics and 200,000km service intervals.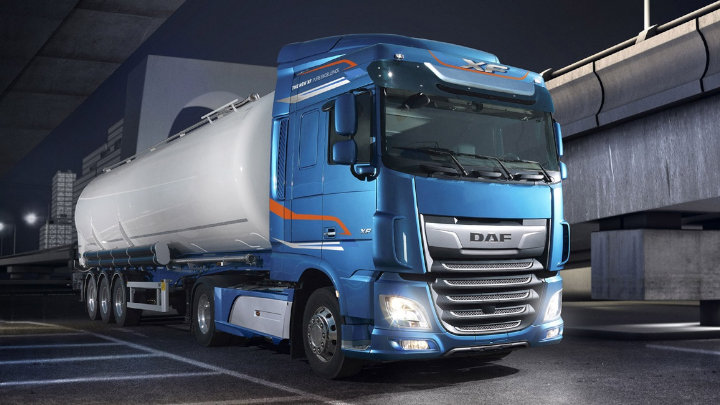 The DAF XF has a number of design touches that boost its claim to be the best-looking truck on the road. Your company logo will look great affixed to the practical upper panel, surrounded by neat exterior features such as the redesigned DAF logo, metal-finish front grille mesh and smartly finished lower bumper insert.
Strength and light weight are the hallmarks of great chassis design, and the XF achieves both of these attributes thanks to the use of extremely high-quality steel, providing an exemplary base for any superstructure that you require.
Other key features of its chassis design include:
Stabilink rear axle suspension for supremely good handling and increased payloads
Smart chassis for a minimum fuel tank volume of 1,500 litres
Lightweight and compact emissions after-treatment system
Substantial Body Attachment Module Programme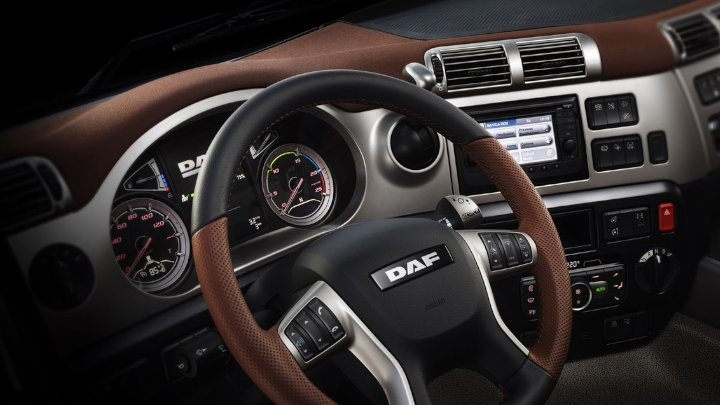 As you step inside the cabin of the XF, you're greeted by a stylish DAF logo on the doorstep. Once inside, you'll be instantly struck by the superlative interior design, top-class technology and excellent comfort, accentuated by the driver-friendly interior lighting complete with dimmer switch.
Safety features on board the XF include:
City turn assist - utilises advanced radar technology to mitigate the likelihood of a collision with a pedestrian, cyclist or other road user in the driver's blind spot
Predictive cruise control - uses GPS tech to anticipate upcoming driving conditions
Adaptive cruise control - adjusts speed automatically based on the speed of the vehicle in front
Advanced emergency braking - autonomously applies the brakes if an imminent collision is detected
Lane departure warning - alerts the driver if the truck strays from its lane erroneously
Vehicle stability control - helps to prevent jack-knifing
Both the PACCAR MX-11 and MX-13 in-line six-cylinder engines that are available with the XF are fitted with the latest common rail diesel technology, as well as a variable geometry turbo for the best possible fuel efficiency, helping to reduce transport costs.
These engines can be specified in a wide range of power outputs, depending on your requirements. All of them meet Euro 6 emissions regulations thanks to exhaust gas recirculation, SCR technology and an active soot filter. Next-generation TraXon 12 and 16 speed automated transmissions are quiet, smooth, responsive and of course efficient.
Drivers can choose between two modes for the engine depending on the road conditions:
Eco Fuel Mode - for the best possible fuel economy
Eco Performance Mode - strikes the perfect balance between fuel efficiency and driveability
Order your new DAF XF at Evans Halshaw
The DAF XF is a great-looking, great-driving truck that could save you thousands of pounds a year. With 7% lower fuel consumption and 100kg additional payload, you can carry an increased load at a decreased cost. Combined with the latest driver assistance and safety technology, it's the benchmark long distance transport solution.
To order your new DAF XF or learn more about our extensive range of pre-built industry specific trucks, please contact your nearest Evans Halshaw DAF dealer.