Introducing the new Citroën Ami
Designed to take on the various challenges of urban driving, the Citroën Ami is the modern mobility solution for today and tomorrow. The all-electric 'microcar' (technically a quadricycle) possesses plenty of charm and character, grabbing the attention of many wherever it goes.
Cleverly designed around in-depth consumer research, the Ami is a hit with UK customers thanks to its abilities to fulfil certain needs. Short charging times and surprising carrying capabilities, it manages to take many of the complications away from driving through a simple, yet effective, approach.
Built almost entirely out of recyclable materials, you can be proud of its eco-friendly nature too. Discover what the award-winning Ami has to offer in more detail below.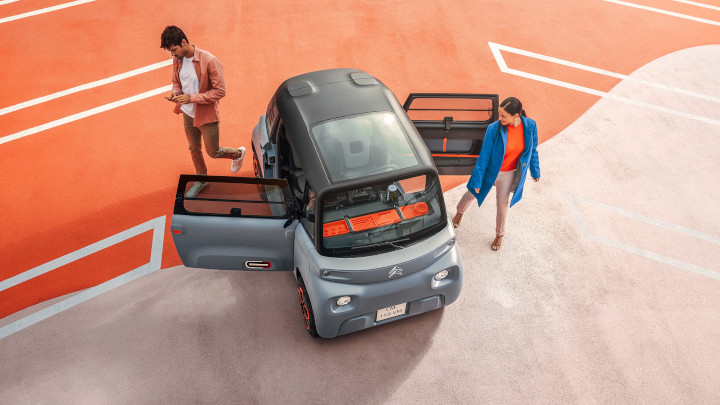 The Ami comes with a fresh and innovative design, ideal for zipping around town or a quick trip to the shops. It isn't all new though, as it takes inspiration from the iconic 2CV, most notably within features such as the side windows. Whether you want flames or kittens, there's a wide range of sticker packs available to ensure your Ami stands out from the crowd even further.
Whilst small in dimensions, there's enough room for driver and a single passenger, plus a small bag of luggage. Combine this with the various storage compartments placed around the cabin and you have a surprisingly practical microcar, ready for the day-to-day life of townspeople.
The interior is simple, yet effective, using what many are calling a 'Lego brick' design due to its overall look. Whilst the left-hand drive-only setup may take a bit of getting used to, it does allow kerbside access for the driver, a feature which many will find handy within busy cities.
A more practical 'Ami Cargo' variant is available to order too, replacing the passenger seat with more storage space.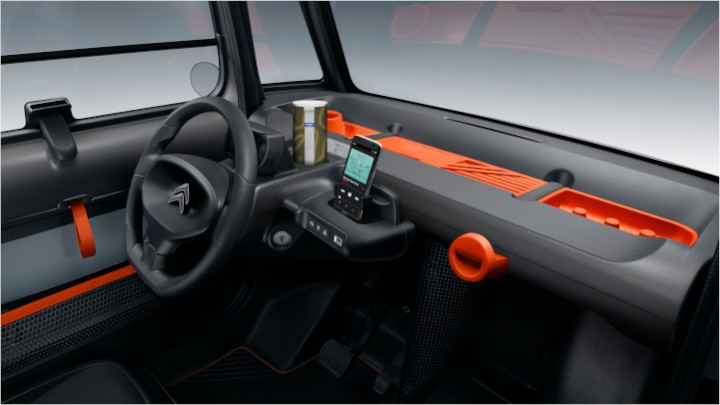 Minimalistic is the best way of describing the Ami, with a back-to-basics approach being implemented throughout. This means it does without the majority of the advanced technology modern cars often come with nowadays, using a small screen behind the steering wheel to feed information to the driver.
However, you won't be venturing out onto fast-moving roads in the Ami, so there's not a critical requirement for this tech to be present. Excellent visibility helps the driver to spot any hazards or vehicles when completing manoeuvres; perfect for built-up, busy areas.
As it's technically a quadricycle and not a car, the Ami won't be put through the Euro NCAP crash tests, nor would it be fair to compare it to other small cars. The sturdy safety cell within does provide good levels of protection in the case of a collision though.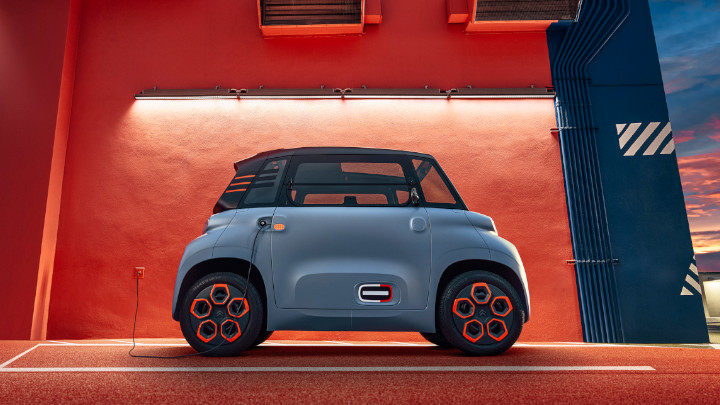 Whilst limited to a top speed of 28mph, the Ami is brilliant fun and easy to drive. The responsive handling allows you to zip in between traffic, while overall dinkyness and a super small turning circle mean you can park the Ami in places other cars simply can't.
It also has an impressively-high ride height, which provides enhanced visibility and means you won't feel bullied by larger vehicles when jostling for position during congested times of the day.
The 5.5kwh battery provides emissions-free driving for a range of up to 43 miles, meaning you're eligible to drive within ULEZ zones without paying hefty charges. The battery only produces 8bhp, but you really don't need much more for the sort of driving you'll be doing in the Ami.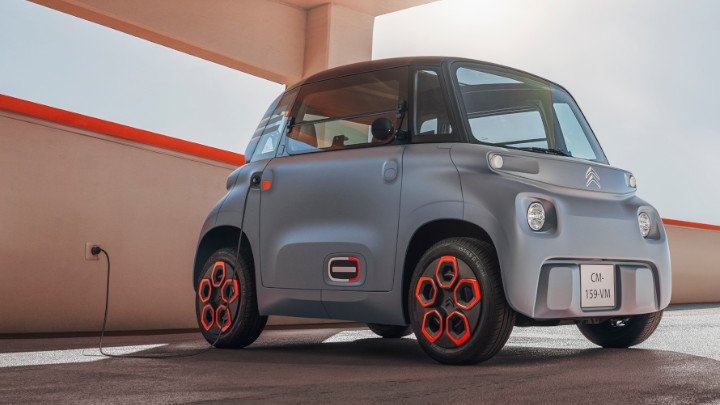 The Ami can only be charged using a traditional three-pin socket, meaning you won't have access to super-fast charging networks that other cars do. However, this isn't too much of a problem as fully charging the battery only takes 3 hours.
The cable sits in a storage compartment within the passenger door, meaning it doesn't take up any additional storage space.
Collect your Citroën Ami from Evans Halshaw
Joining Citroën's ever-growing range of electric vehicles, the Ami is designed to be fun to drive and an affordable means of motoring for all. A future-proof approach to tackling modern challenges, it's ideal for those travelling around urban areas on a regular basis.
For more information or to place an order, visit Citroën's website. You're able to collect your new Ami from your nearest Evans Halshaw Citroën dealership.